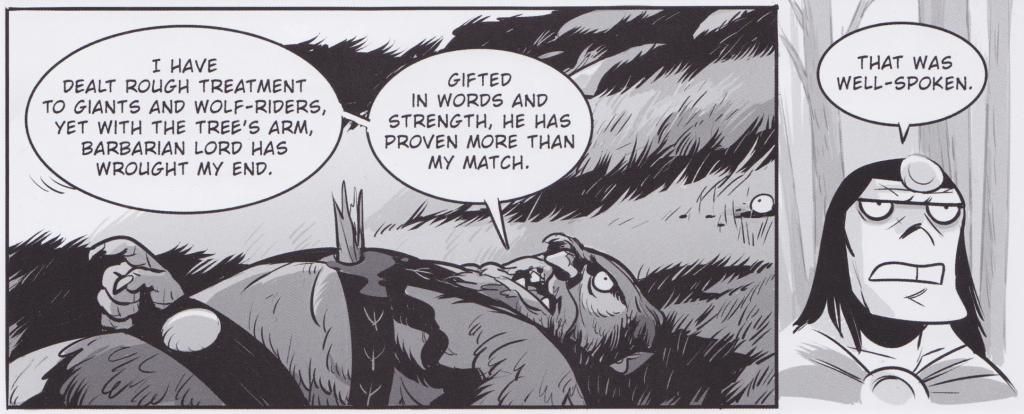 Barbarian Lord is both a hardcore boozer who possesses extremely violent behavioral patterns and a keen appreciation for poetry AND the name of the recently* released graphic novel dedicated to portraying his adventures in boozing, brawling, and poetic appreciation. As Barbarian Lord's own personal real-life skald, Matt Smith sings Barbarian Lord's praises and spreads his renown to those of us who are not fortunate enough to lift a sword and join in his adventures firsthand. Matt's also an all-around good guy who I've had the pleasure of sharing a few horns with at local venues ranging from "the highest hall" to "the lowest cave" (in his own words, and if you know the area then you can likely guess what those are).
But getting back to the book, this is the sort of work for people who like the following:
-Vikings (obviously)
-Icelandic sagas
-Heroic understatement
-Badass illustrations
-Evil trolls and other monsters
-Vicious conniving
-Sexy witches who maim innocent birds
-Demonic possession of domesticated farm animals
-And, last but definitely not least, death metal allusions
If you're even at this weird, little website, then that should be enough to convince you to hail the hero himself at http://barbarianlord.com/ and to join his quest for justice, drinking, and killing all who stand in his way.
*I say "recently" somewhat loosely because it was actually released last summer, but being only half a year behind the times is a step in the right direction for me. The last time I blogged about a book, I was three years late. Skål for punctuality!
Tags: Boston/New England, glory, metal, skalds