Inspired by McSweeney's Internet Tendency's longest-running (and unequivocally least popular) column, Norse History for Bostonians, Norse Mythology for Bostonians: A Transcription of the Impudent Edda has been highly unanticipated, but was released on January 29, 2020 anyway. ***Autumn 2022 update! Additional tales of from The Impudent Edda have recently been discovered and are being released by McSweeney's under a new Norse Mythology for Bostonians column on a rolling basis. Be sure to check it out if you desire to learn more about the day-to-day lives of the gods and their stupid antics, such as the time when Odin sent Freyja a dick pic or the time when Tyr got drunk and entered a mosh pit.***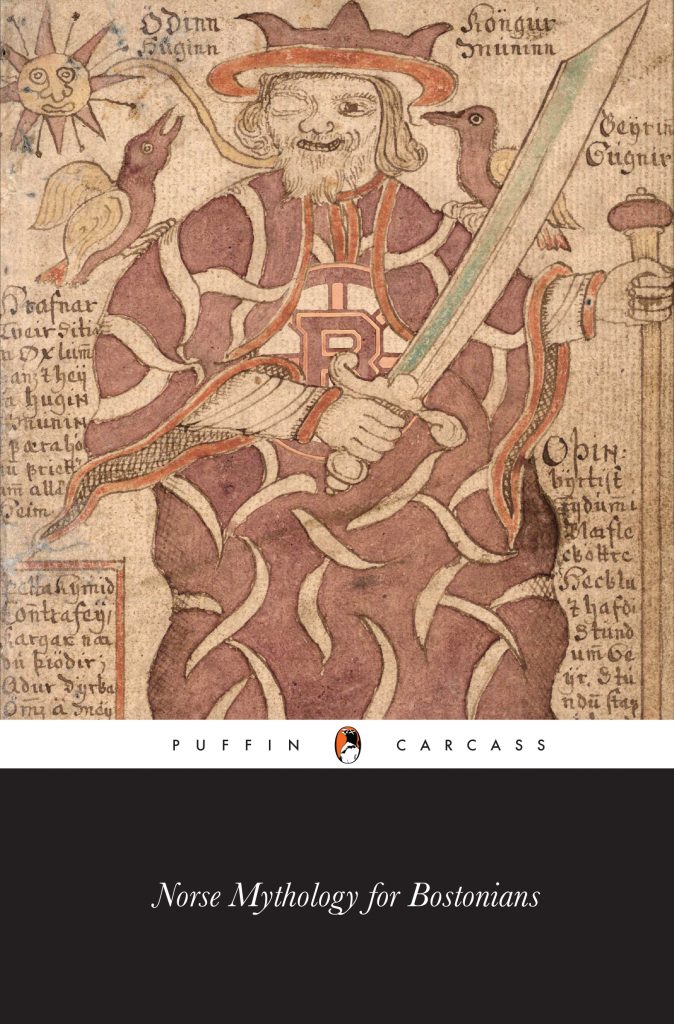 Highlights of the book include these enthralling episodes of archaic Scandinavian lore:
Old Norse Astrophysics
The Original Gandalf was a Maggot
Odin Commits Suicide
Thor Begets the Green Monster
The Night Freyja Walked the Streets
Only Foolish Gods Ride the Green Line
Brady Gets Suspended
Belichick Rides to Hel
Thor Breaks and Enters into a Dunkin' Donuts
…and many more! Plus exclusive excerpts may be found at the following sites:
McSweeney's (an excerpt about the time when Thor attempted to renew his driver's license)
Points in Case (an excerpt covering the main cast of characters, including Brady, Charlie, and Wally the Green)
Slackjaw (an excerpt explaining the concepts of Old Norse Astrophysics in layman's terms)

Signed copies of the book are available at my Etsy store and the book is in stock at the following local, independent New England shops:

The book is now also available at the following brick and mortar Barnes and Noble locations: :
For those of you who don't live in New England, the book may also be purchased wherever else books are sold, including Bookshop, Indie Bound, Barnes and Noble, and even the online-slayer-of-small-businesses-that-shall-not-be-named.
Finally, if you somehow arrived at this page looking for the world's only book of investigative journalism on the Modern Viking Movement and its whalers-turned-vikings, plagiarizing warrior-poets, and elite viking sisterhoods, you can learn more about that gnarly tome here: The Scandinavian Aggressors.