ON JUNE 8TH, 2022, THE FURY OF THE NEO-NORTHMEN WAS UNLEASHED UPON UNSUSPECTING, POORLY FORTIFIED BOOKSELLERS EVERYWHERE. CLICK ANY OF THE ICONS BELOW TO VISIT THAT STORE'S PAPERBACK AND/OR EBOOK LISTING.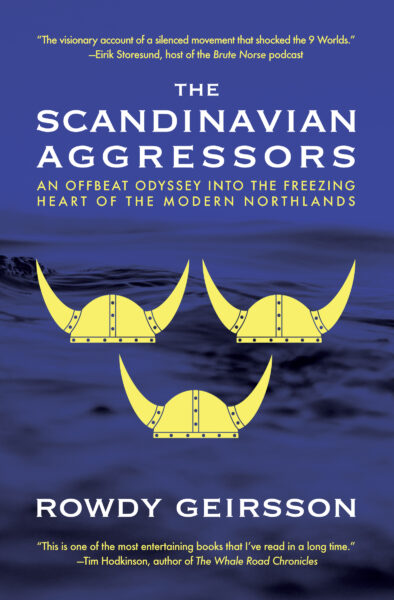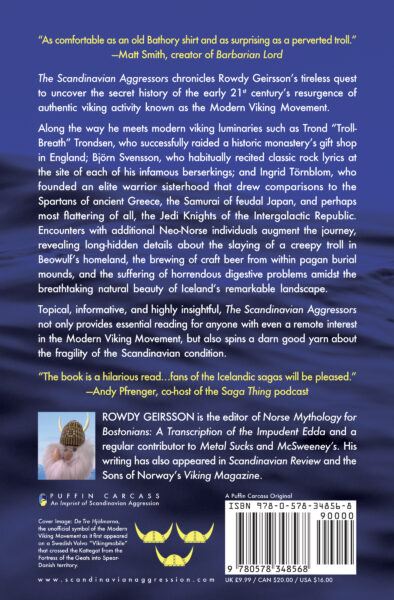 An offbeat odyssey in the freezing heart of the modern Northlands, The Scandinavian Aggressors uncovers the secret history of the early 21st century's resurgence of authentic viking activity known as the Modern Viking Movement. Inside its unhallowed pages, readers will discover delightful and illuminating Neo-Norse episodes such as:
Desecration of the Snæfellsnes Shit-Skerry
Enslavement of the Wee Folk
Last Sasquatch of Jotunheim
Troll Exposure in Eastern Geatland
Kraki's Seed is Spread
The Acquisition of the Man-Servants
Drinking with the Draugr
The Beheading of Ariel
Fear and Loathing in Western Sweden
…and many more!
The book is available at most online outlets (links at the top of this page). A small handful of signed copies are also available at Etsy, and the following brick-and-mortar shops also have physical copies (some of which are signed) on hand:
For a heavy dose of proper Norse defeatism, the ebook version was released on September 25th, 2022.
You can also check out the Meet the Heroes page for additional information about the key members of the Modern Viking Movement and the Sagas of Pathetic and Banal Exploration page for some links to excerpts about their (in)glorious endeavors.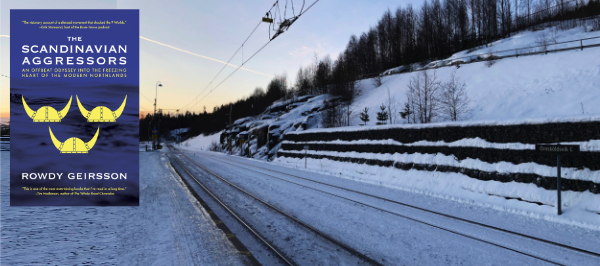 LAUNCH-THING AT THE SCANDINAVIAN CULTURAL CENTER On Saturday, June 11th, the book met its fate at the SCC in MA with a public reading of a chapter about a dysfunctional dragon-slaying incident. Also present were Matt Smith, Corwin Ericson, and Eir's Garden. More info here: SCC Launch-Thing
Lastly, here's what some early readers had to say about The Scandinavian Aggressors:
"Rowdy Geirsson reaches out like a draugr from a barrow to pull your leg down a rabbit hole full of plausible but preposterous lunatics and doomed sailors in this very funny neo-faux saga. If you're the type of armchair traveler who would rather carry a drinking horn than the Hitchhiker's Guide-recommended towel, read The Scandinavian Aggressors and follow Geirsson to the land of the midnight sun, troll snot liquor, decapitated mermaids, and doofus viking warriors."
—Corwin Ericson, author of Swell and Checked Out OK
"An outrageously Norse-sensical shaggy dog story. Rowdy Geirsson is a cross between Loki and the Venerable Bede."
—Tony Williams, author of Nutcase and Hawthorn City
"Funny as hell! Kind of like Rolling Stone for the Álfablót crowd."
—Scott Oden, author of A Gathering of Ravens and Twilight of the Gods
"I had a very good, and by good I mean weird but in a good way, time reading Rowdy's travel guide to parallel Scandinavia. It's as if early Louis Theroux was making a documentary about almost, but not quite, somewhat entirely successful modern vikings while the authors of Illuminatus! nodded in approval and now I need to lie down. Also, beer."
—Bjørn Larssen, author of Children and Why Odin Drinks
"Not only is Rowdy's writing superb, but the book delivers on its promise, providing a colorful and entertaining look into the life of a man searching for something more and finding it—maybe—in the cold north of modern day Scandinavia. This book was a stand out for me. I loved its creativity, its storytelling, its stick-in-your-craw characters, and its ability to make me laugh…if you love vikings and offbeat humor, and aren't afraid to stretch your imagination, you should give it a try."
—Eric Schumacher, author of the Hakon's Saga and Olaf's Saga trilogies
"A fascinating, bemusing, very funny blend of fantasy yarn and reality—more reality than the author lets on, since there actually is an obscure, modern viking movement suppressed by the media (at least in Sweden), although those modern vikings don't usually raid souvenir shops in Lindisfarne or hunt confused dragons in Norrland."
—Rickard Berghorn, Swedish author, literary scholar and editor at Aleph Bokförlag and Timaios Press
"The Scandinavian Aggressors is the visionary account of a silenced movement that shocked the Nine Worlds. A thoroughly Scandifuturistic chronicle of Neo-Norse extravaganza, so burlesque and Baudrillardian that you will thoroughly doubt your own sanity by the end of it. Rowdy's most shocking exposition of Boreal apocrypha yet."
—Eirik Storesund, errant Old Norse philologist and host of the Brute Norse podcast
"As a big fan of Norse mythology and viking history, I found Rowdy's book as comfortable as an old Bathory t-shirt and as surprising as a perverted troll. Mermaid beheadings, enslaved leprechauns, and other unstable tales of mead-soaked adventure await! I had a grin from ear to ear reading this whole damn thing."
—Matt Smith, creator of Barbarian Lord and illustrator of Hellboy: The Bones of Giants
"In the satirical tradition of More's Utopia and Swift's Gulliver's Travels, with a healthy dash of gonzo journalism, Rowdy Geirsson's The Scandinavian Aggressors is a hilarious read. Fans of the Icelandic sagas will be pleased by the modern spin on their favorite scenes and stories from the sagas."
—Andy Pfrenger, professor of medieval studies and co-host of the Saga Thing podcast
"This is one of the most entertaining books I've read in a long time. Geirsson's journey through the Modern Viking Movement is a feat of exploration worthy of Leif Eriksson himself. Witty, informative, thought provoking, and at times laugh-out-loud funny, there is something here for everyone from scholars of medieval Icelandic sagas to fans of Bill Bryson, and particularly for those who are both."
—Tim Hodkinson, author of The Whale Road Chronicles