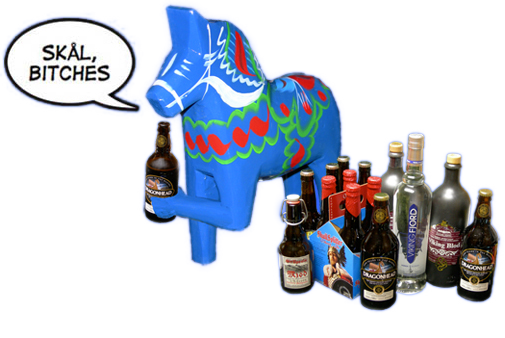 Wines and cider arranged by the names of the producers.
Copa de Oro — Viking Cider
Hard Viking cider from Mexico. Currently linking to a third party site because Copa de Oro's page for this particular product isn't working.
Norse Wines
Winery in Australia, they also produce a Norse Gold Mead.
Rabbit's Food Meadery — War Hammer
Honey flavored hard cider from California! They also have a Mead of Poetry, but aren't playing the potential Norse card with it, alas.
Swedish Hill Winery — Viking Wine
Swedish Hill Winery is in New York, scroll down the linked page to learn about white and red versions.
Toad Hollow Vineyards — Erik's the Red
Check out this wine. I don't know if it's any good, but it has a horny toad dressed up as Erik the Red on its label and that is simultaneously both awesome and ridiculous.