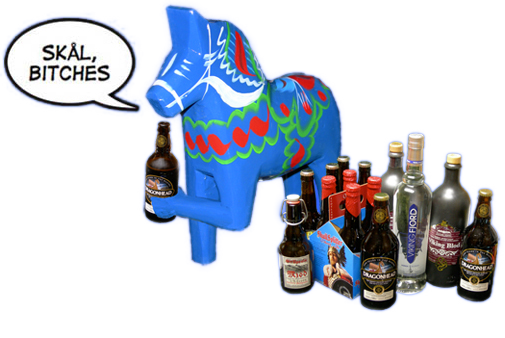 This page is organized according to the name of each meadery.
Dansk Mjød
Danish meadery with an extensive product list including Viking Mead, Viking Blood, and others, as well as a few Viking inspired barley brews (which I didn't list on that page out of laziness).
Heidrun's Meadery
Meadery located in California, named after Odin's amazingly uddered goat. The familiar runic imagine of Odin riding Sleipnir is used in the meadery's logo.
Honey Run Winery — Ragnar's Reserve
Some dry mead from California.
Nya Munkbo Bryggeri — Svea Viking Mjöd
Swedish mead. Couldn't find an official site to this intriguing beverage, but the link seems to suggest its existence.
Odinsborg — Gamla Upsala Mjöd
Mead brewed by the restaurant and cafe located at Gamla Uppsala, the historical religious center of ancient Sweden (site is only in Swedish).
Sigtuna Brygghus — Ingvar Vittfarnes Mjöd
Swedish microbrewery-made mead dedicated to the memory of the Far-Travelled.
Wikingerblut — German Viking blood (mead flavored with cherry juice) made available by the following:
Met der Edelleut (they also sell Baldur, a mead flavored with vanilla…German language only, and you'll have to key in your query in their search field)
Nordwelt Versand
Der Ritterladen (German language only).