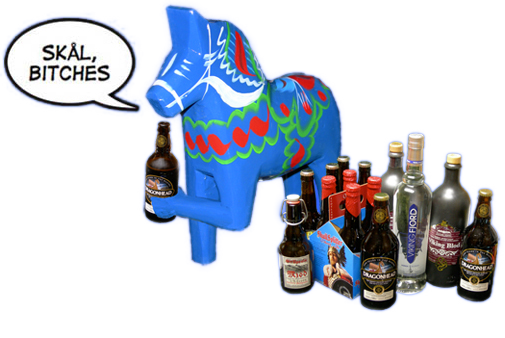 This page is divided into two sections: first, Viking breweries, and second, individual Viking beers (also arranged by parent brewery).
Full blown Viking-inspired breweries:
Asgaard-Brauerei Schleswig
German brewery in Schleswig inspired by the Vikings of Hedeby.
Ekim Brewing Company
Australian microbrewery born of Danish Viking heritage.
Faxe
Danish brewery with a Viking dude on its labels. Rumors on the web that they once produced an Odin Pilsner.
Fearless Brewing Company
Oregon brewery, fearless in their brewing and drinking abilities, just like the Vikings.
Hammerheart Brewing Company
Minnesota brewery thematically dedicated to Viking metal and Bathory.
Herslev Bryghus
Danish microbrewery in the town of Herslev, near Roskilde and the Viking Ship Museum. Nice Norse-carving inspired artwork.
Jelling Bryggeri
This brewery is about as Viking as it gets (site is Danish only).
Norse Brewing Company
Relatively new brewery in North Carolina that properly takes its inspiration from Old Norse culture.
Odin Brewing Company
Seattle based brewers paying proper homage to the Allfather himself. They're so into it, their website even has a Norse mythology primer for those not in the know.
Rudgate Brewing
York brewers inspired by the Viking history of their city.
Thor
A Danish brewery named after the most accomplished drinker of all time (site is Danish only).
Valhalla Brewery
Many inspirational drinks to this brewery's credit, located in Shetland.
Viking Brewing Company
Wisconsin brewers of many beverages. The name says it all.
Ægir Bryggeri
Norwegian brew pub located in Flåm.
Ölgerdin
This Icelandic brewery is cool because it takes its name from and offers a line of beers named after that poet dude who pissed off Erik Bloodaxe.
Individual Viking-inspired brews:
Aarhus Bryghus — Valkyrie
Danish Valkyrie beer; scroll down linked page to view it.
Braunstein — Viking IPA
Danish brewery that also distills single malt whiskey.
Brøckhouse — Draupnir
Danish beer honoring that most bad-ass of arm rings, brewed with pine and honey. Can't link directly to this particular beer, but it does appear towards the bottom of the "Øltyper" section of the Danish version of the brewery's site.
Ceres — Red Erik
Hail Erik the Red! Danish owned brew apparently produced in Italy.
Dempsey's Brew Pub — Battle Axe Blonde Ale, Longship Lager, and Valkyrie Red
Located in South Dakota. Scroll down a bit on the linked page to view beers mentioned.
Elysian Brewing Company — Bifröst Winter Ale and Loki Lager
Seattle based brewers. Scroll down on the Loki Lager link to view the info about it.
HaandBryggeriet — Norse Porter, Odin's Tipple, and Valhall
Hardcore Norwegian microbrewers. Valhall is still a work in progress.
Hebridean Brewery — Berserker Export Pale Ale
Hails from the Viking infested waters of the Hebrides in Scotland. Click the "products" link on the left side of the linked page and scroll down to see the Berserker ale.
Midnight Sun Brewing Company — Berserker Imperial Stout and The Viking Dark Strong Ale
Alaskan Viking beer! Also, their oosik is amusing.
Millingstorps Gårdsbryggeri — Runöl
"Rune beer" from Sweden (website is Swedish only).
Olvisholt Brugghus — Freyja Wheat Ale
Patriotic Norse goddess beer from Iceland.
Orkney Brewery — Dragonhead Stout and SkullSplitter
Scottish brewery, amazing shit. Unfortunately, can't link directly to individual beer pages within the site, but you can get some great info on them once you pass the age verification thing that the link takes you to.
Quidi Vidi Brewery — Eric's Red Cream Ale
Brew honoring Eric the Read from a microbrewery way up in Newfoundland.
Red Branch Brewing Company — Hel Saison
Belgian style saison ale from California, apparently under the same ownership as the War Hammer mead on the honey brews page.
Schlossbrauerei Fürstlich Drehna — Odin-Trunk Honigbier
German beverage hailing the Allfather. Can't link directly to the beer, but the brewery site does contain info about it in the lower right corner of the page the link takes you to. (German language only).
Strangford Lough Brewing Company — Barelegs Ale and Legbiter Ale
Irish brews dedicated to battle-crazed King Magnus Barefoot.
Thor-Bräu: Das Brauhaus in Ottensheim — Thor Bräu
Thunder god beer/brewery from Austria.
Vífilfell — Víking
Brewery offering a range of pure Icelandic Viking beers.
And finally, a few odd ones out:
Wikinger-Bräu offered by Der Ritterladen
German Viking beer with honey. Not sure if produced or just sold by Ritterladen (German only site).
Though there seems to be no official site, I found traces that Thomas Kemper produces a Viking Fest Summer Ale. Also of interest may be Alba Scots Pine Ale, brewed by Heather Ale and inspired by the pine ales brought to Scotland by the Vikings a thousand years ago.
Lastly, if you're into malt, check out Viking Malt, a joint Finnish-Swedish-Lithuanian malting company.