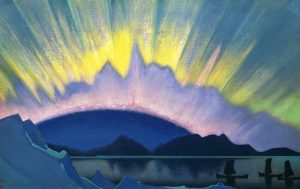 So I'm not very big on timely, punctual, or even consistent blog updates, but I am big on depictions of majestic northern landscapes, especially if they feature Viking ships plowing the waters under what I presume to be the aurora borealis. Or maybe it's meant to be the midnight sun, I'm not really sure, and that's besides the point. The point is: here's a badass Nicholas Roerich painting for you to look at and help you get psyched for the coming long haul of bleak winter cold and darkness now that the holiday festivities are over: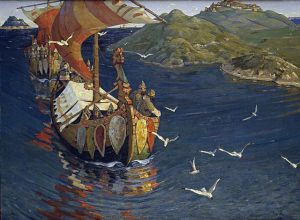 And just to clarify who this Nicholas Roerich fellow was, those of you who are more versed in 100-year old Viking-inspired artwork might recognize this one:
That one shows a bunch of Varangians sailing down from Sweden or perhaps one of their colonies at Staraya Ladoga or Novgorod on their way to Miklagård or maybe just do a little something like establish the foundations of the country of Russia as we now know it.
Anyway, Roerich was well known for his paintings, along with other philosophical-type works, and was referenced in the writings of H.P. Lovecraft, which is a fact that ought to appeal to fans of his fantastical tales (especially those living in the New England area). And while we're on the topic of fantastical tales and Varangian adventures, it seems only appropriate to also promote this little, old-time ditty: