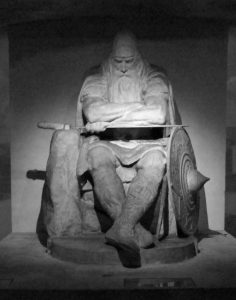 Holger Danske, or Ogier the Dane as he's known in the non-Scandinavian-language-speaking parts of the world, slumbers in the deep, dark dungeons of Hamlet's castle, Kronborg, about an hour north of Copenhagen, defending Denmark with his staunch snoring. It doesn't look like a very comfortable position. Personally, if I was going to sleep for years on end, I'd prefer to lie down and take off my armor. But then I'm a lame, weirdo blogger type of person, whereas Holger is a heroic badass who will wake and arise whenever his nation is threatened, so I think he probably does most things better than me, especially when it concerns medieval warfare, battle-preparedness, and general sexiness of appearance.
This particularly sexy rendition of Holger was sculpted by Hans Peder Pedersen-Dan back in the glorious year of '07 (1907, that is). Pedersen-Dan, not only sculpted this great Nordic hero, but also made some important contributions to the Carlsberg Brewery, so he deserves double skåls for that.
Check out the photos below for an additional, sexy shot of Holger himself as well as his humble abode.