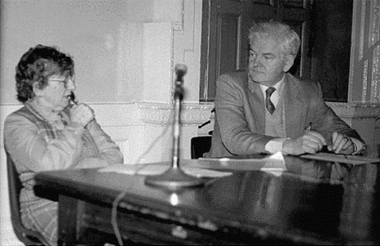 It's not everyday that I add a new Hero of Norse Proliferation to this not-so-glorious digital hall not-on-a-hill, but when I do, I really mean it, since it involves a clear and special deviation from my normal neglect. And who could be the worthy soul bringing me back from the brink to sing her praises? Why, none other than H.R. Ellis Davidson, of course!
Short for Hilda Roderick, H.R. was very prolific in the mid to late 20th century in the world of Norse scholarship. She received her PhD from Newnham College (part of the University of Cambridge) in 1940 and began her illustrious career of penning informative books about Norse history, culture, and mythology with her dissertation which was published as The Road to Hel: A Study of the Conception of the Dead in Old Norse Literature in 1943. She also wrote hard-hitters (if not necessarily best-sellers) such as Gods and Myths of Northern Europe, Pagan Scandinavia, Scandinavian Mythology, Roles of the Northern Goddess, The Sword in Anglo-Saxon England, and provided extensive commentary to Peter Fisher's translation of Saxo Grammaticus' epic of seal fights and frost giant fosterings, The History of the Danes. This is not an exhaustive list, and needless to say, if you possess more than just a fleeting interest in the Old Norse anything, then her work is worth a gander.
Addtionally, H.R. Ellis Davidson's interests branched out beyond the world of Ye Olde Scandinavia and Anglo-Saxon England, however, particularly to the realm of folklore, with an emphasis on that of the British variety. She was deeply involved in The Folklore Society from 1949 to 1986 and even served as its president from 1973 to 1976. Along with Katharine Briggs (no, not that Katharine Briggs, you personality-type nerds), she played a pivotal role in elevating the society's status as well as the field of folklore research in general within England. She also taught at Lucy Cavendish College (again, part of the University of Cambridge) and provided valuable mentoring to the young women students matriculating there at the time.
H.R. Ellis Davidson passed away in 2006, but the wisdom of the runes that she carved lives on.