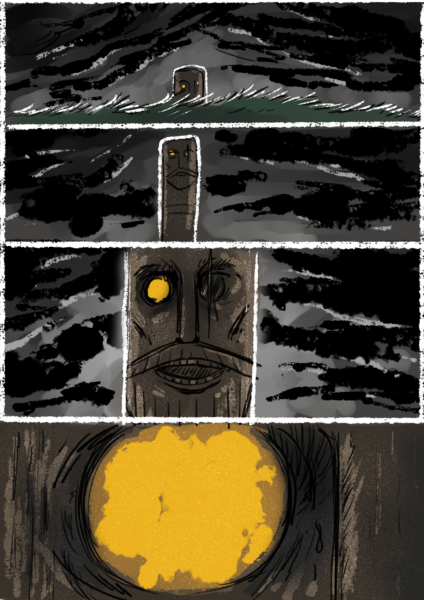 There aren't many contemporary creative works out there that take their inspiration directly from Norse activity in the old Kingdom of Strathclyde; usually the focus lies on Wessex or York when it concerns Britain (and Mercia often receives a special, blood-spattered nod). The territory that comprises current Scotland in general, however, largely goes overlooked, aside perhaps from all those fun sackings on Iona and Portmahomack and the full-blown settlement of the northern isles. But Simon Dickie is doing something about that with The Hogback Saga.
The Hogback Saga is an ongoing comic set in Strathclyde concerning an influx of Norse settlers who were chased off their farms near Dublin by the Irish. As it's still a work in progress, the outcome of the narrative and the relations between the Norse and the Brittonic characters remain unknown to us. The story itself is grounded in its own local history and geography, featuring the River Clyde and Dumbarton Rock, ancestral seat of the Strathclydian dynasty, and takes its title from the hogback stones found at Govan in Glasgow.
The Govan Stones themselves are fascinating and often overlooked burial-custom relics from Viking Age Scotland. They tend to languish at Govan Old Church, receiving infrequent mentions compared to, for example, the Gosforth Cross, which all of the history and archaeology books on Viking Age Britain tend to hail (and which, actually, is accompanied by its own hogback stones). But as with the Gosforth Cross, the Govan Stones similarly feature a blending of religious and cultural imagery. The Govan hogback stones, in particular, have a fun Norse-inspired aesthetic: although they bear a name derived from the glorious shape of a certain type of mud-swilling farm animal, they were actually carved to appear similar in shape to old Norse halls.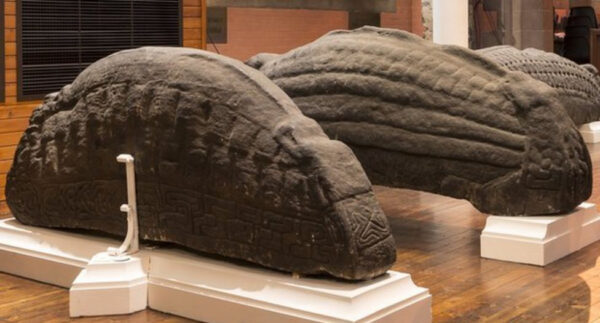 The Hogback Saga itself follows on the tails of Simon's earlier effort, a comic about an occult detective set in present-day Scotland called Malky Dungeon. The art is cool, the content relevant, and the premise unique (of both works). There's still a lot of territory for Simon to cover in his ongoing opus, but if you're the type of person who visits obscure websites named things like Scandinavian Aggression, then you're probably also the type of person who should give The Hogback Saga a look!
Oh, and it should probably go without saying that all the images here are Simon's work and property (aside from the photo of the hogbacks that I pilfered from the York Archaeological Trust).