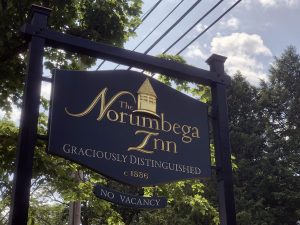 Last year I added a couple of posts to this floundering website about the everlasting heritage and influence of Norumbega in the state of Maine. The words "heritage" and "influence" are exaggerations, but there are a handful of fun landmarks and establishments in Vacationland that pay homage to the fabled Norse city that never was, such as Norumbega Parkway in Bangor, Norumbega Cidery in New Gloucester, and Norumbega Mountain in Acadia National Park. And now, more than a year since those exhilarating updates were posted (due to passivity and general slacking off), Norumbega Inn gets its own shot at the royal Scandinavian Aggression treatment!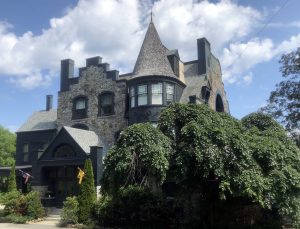 In other words, check the photo of the sign above and the inn itself below.
The inn is located in Camden, Maine and was built in 1886 by a certain Joseph Stearns, who apparently invented the duplex telegraph and used his subsequent fortune to build his own castle, which became the inn and took its name from Leif Eriksson's supposed municipal establishment further south in Massachusetts, of course. You can learn more about the inn's history on its own website here, and more about Norumbega itself by clicking the image below.